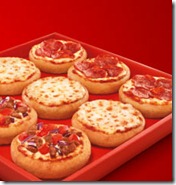 In separate deals, participating IHOP and Pizza Hut restaurants are serving free food.
Pizza Hut:  Participating Pizza Hut restaurants are offering Big Pizza Sliders  4 p.m. to 7 p.m. February 5. A Big Pizza Slider is a mini pizza with up to three toppings.
IHOP:  For National Pancake Day, participating  IHOP restaurants offer guests a free short stack of pancakes, while supplies last.  Restaurants are using the promotion to accept donations for specific non-profit organizations.
Thanks to Living On The Cheap.