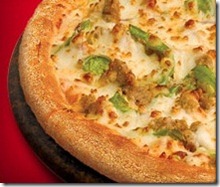 Papa John's is featuring an opportunity to win a free pizza in a game related to the Super Bowl. 
Vote for heads or tails online.
Place your vote by February 2.
If the Super Bowl coin toss goes the way you voted, you earn a promo code valid for a free large one-topping pizza from Papa John's.  Winners will receive a promo code on February 4, which is redeemed online.
Information about the promotion is on the FAQ page.
After you vote, you'll receive a special discount code for 35% off any large pizza through February 2.  For information, 877-547-7272