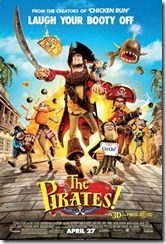 We're got some movie tickets to give away to the new animated film "The Pirates! Band of Misfits," the latest movie by the creators of "Chicken Run." Since we still have some passes left, we're extending this offer another day, through midnight Wednesday, April 18.
We've got a limited number of passes our readers (and one guest each) to see the film.
The screening will be at 10:30 a.m. Saturday, April 21, at the AMC Aventura, at Aventura Mall in North Dade. The screening will include a pirate lookalike contest for kids.
Here's how to get a free movie pass:
Subscribe to our daily deals email newsletter from Miami FL on the Cheap or Fort Lauderdale on the Cheap. If you already subscribe, proceed to Step 2.
Email us at tam801@gmail.com (our usual address is down for a few days as we switch servers) and let us know which address you use to subscribe and to which daily update. Use PIRATES MOVIE in your subject line to route your entry to the movie contest mailbox.
We'll draw 50 winners from those who respond by midnight Wednesday, April 18. The winners will get a unique code to download a free pass from GoFobo.com. Each pass will admit two people.
The pass does not guarantee seating, so be sure to arrive early to ensure you get in. You will have to register at GoFobo to receive the pass.
Here's a brief plot synopsis: Hugh Grant is the pirate captain, an enthusiastic but somewhat inept terror of the High Seas. His dream is to beat out his rivals Black Bellamy (Jeremy Piven) and Cutlass Liz (Salma Hayek) for the Pirate Of The Year Award. Of course, he and his band of misfits run into plenty of adventure along the way. The film is rated PG.