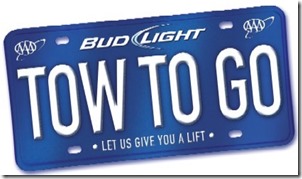 The free Tow To Go program, a partnership of AAA and Bud Light, works to keep drunk drivers off the road on holidays.
The program, which is offered various holidays in Florida, provides AAA tow trucks — when possible based on the workload — to transport inebriated drivers and vehicles home safely. The program includes Labor Day weekend.
To request a ride, phone 800-222-4357
Even better think before you go out. The program is a good reminder before going out to designate a driver who'll stay sober.