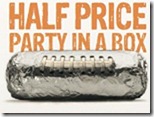 For the Super Bowl,  various restaurants are offering deals on party food.
Burrito lovers might want to take advantage of a half-price deal on orders of at least six.
Participating Chipotle shops are offering the deal February 5 on orders of six to 100 burritos.
With purchases of at least 50 burritos, place the order a day early. Some restrictions may apply.