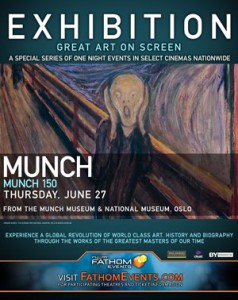 If time and money were no object, we could all travel the world to see the greatest art of all time.
For those of us who can't do that, a new film series, "Exhibition: Great Art on Screen," is bringing the world's great art exhibitions to us. The next film of the series features the work of Edvard Munch, with art historian Tim Harlow showing and telling about the work of the Norwegian artist known for his painting "The Scream." The film is co-hosted by the National Museum and the Munch Museum in Oslo, where the artwork is on display.
The film is part documentary and part museum visit, presented in HD. A film about Vermeer will be shown in October (stay tuned for the giveaway).
The Munch film will be shown at cinemas around the world at 7:30 p.m. Thursday, June 27. Five lucky readers of Fort Lauderdale On The Cheap and Palm Beach On The Cheap win a pair of tickets to see the film (a $30 value) at Cypress Creek Stadium 16, 6415 N Andrews Ave., Fort Lauderdale.
Here's how to enter to win two tickets to Exhibition: Great Art on Screen:
Subscribe to our daily newsletter from Fort Lauderdale On The Cheap or Palm Beach on The Cheap.  If you already subscribe, proceed to Step 2.
Leave a comment at the end of this post about your favorite place to see art in South Florida.
Email your mailing address to info@fortlauderdaleonthecheap.com with "Ticket Drawing" in the subject line. (Winners will receive their tickets by mail.) If you do not send your postal address, you cannot win. We don't save these or share them, just use them to mail the tickets.
Deadline to enter is midnight Monday, June 17.
The drawing will be conducted and winners will be notified June 18.
Entrants must be 18 or older. One entry per household. Winners must be residents of South Florida.