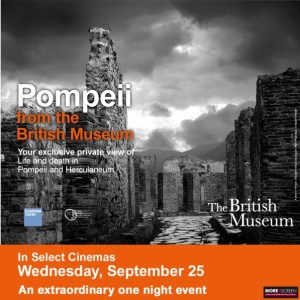 We're holding a flash giveaway for five pairs of tickets for the upcoming film Pompeii from the British Museum, which includes an exclusive view of the British Museum's exhibit Life and Death in Pompeii and Herculaneum.
The film will be shown at 7:30 p.m. Wednesday, Sept. 25, in cinemas nationwide, including several in South Florida. Our giveaway is for the screening at Sawgrass Stadium 23, 2600 NW 136th Ave., Fort Lauderdale, FL 33323.
Here's the description of the film:
The exhibition explores the homes and lives of the inhabitants of the thriving industrial hub of Pompeii and the small seaside town of Herculaneum nearly 2,000 year ago when Mount Vesuvius erupted in 79AD. Introduced by British Museum Director Neil McGregor, cinema audiences will be treated to an exclusive view of the exhibition with insights from renowned experts who help bring these fascinating objects to life. With accompanying music, poetry and readings from eyewitness accounts, you will go behind the scenes of the exhibition to discover the stories of these famous Roman cities.
We don't have much time, so we're making this a flash giveaway. You have until 5 p.m. Sunday, Sept. 22, to enter. Tickets will be mailed to winners Monday morning, and we will keep our fingers crossed that the postal service will get them there in time.
Here's how to enter:
Subscribe to our daily newsletter from Fort Lauderdale on the Cheap. If you already subscribe, proceed to Step 2.
Leave a comment at the end of this post about your favorite cheap cultural event in South Florida.
Email your mailing address to info@miamionthecheap.com with "Pompei Sawgrass" in the subject line. (Winners will receive their tickets by mail.) If you do not send your postal address, you cannot win. We don't save these or share them, just use them to mail the tickets.
Deadline to enter is 5 p.m. Sunday, Sept. 22.
The drawing will be conducted and winners will be notified late Sept. 22 or early Sept. 23.
Entrants must be 18 or older. One entry per household. Winners must be residents of South Florida.