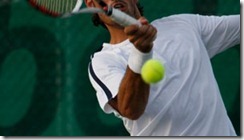 ScoreBig, a new discount tickets company, is offering tickets to the Sony Ericsson Open tennis tournament at Key Biscayne for 25% to more than 50% off.
ScoreBig is not a ticket broker but a company that works directly with venues, teams and promoters to sell off excess tickets. It's a little like Priceline for entertainment and sports tickets.
Here's how it works:
Select the event you want and where you want to sit.
Bid how much you are willing to pay. You'll have to enter your credit card information here.
If your bid is accepted, you're notified instantly, and the company charges your credit card.
If your bid is rejected, you can place a new bid.
Sometimes you'll get a counter offer, which you are free to accept or reject.
No additional fees are added to the price you agree on.
ScoreBig also is offering discount tickets to the Miami Heat, Miami Marlins and Florida Panthers. The company also offers concert and theater tickets, but there are none available right now in South Florida.
To get the deals, you have to join ScoreBig, but that's free. You have to be invited to join and normally there is a waiting list. However, you can join immediately if you register here.
ScoreBig is an advertising partner of On the Cheap.