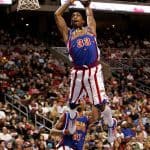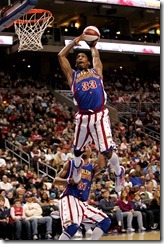 We've got a great giveaway today: a chance to win four tickets to see the Harlem Globetrotters at 1 p.m. Sunday, March 10, at American Airlines Arena in Miami.
The Harlem Globetrotters have been turning basketball upside down and inside out since 1926. This year's team includes includes the world's tallest pro basketball player, the shortest Globetrotter ever and the team's first female player in nearly 20 years.
Here's how to win a family four-pack of tickets:
Subscribe to our daily email from Miami FL on the Cheap or Fort Lauderdale on the Cheap. If you already subscribe, proceed to step 2.
Send an email with your full name, postal mail address and the e-mail address with which you subscribe to On the Cheap to miami27@miamiflonthecheap.com. ENTRIES WITHOUT MAILING ADDRESSES WILL BE DISQUALIFIED. We don't sell or even save these addresses but use them to verify eligibility. You must use your full legal name is it appears on your ID, which the winner will need to pick up the tickets.
Put GLOBETROTTERS in the subject line. Entries without the correct subject line will not end up in the contest mailbox.
Deadline to enter is noon Thursday, March 8.
The drawing will be conducted and winners will be notified March 8. Winners will pick up their tickets at WILL CALL at the venue and will need to show photo ID.
Contestants must be 18 or older. One entry per household. Winners must be residents of South Florida.